4K WolfPack HDMI HDBaseT Over CAT5 with POE & Audio Deembedding to 220 feet
4K WolfPack HDMI HDBaseT Over CAT5 with POE & Audio Deembedding to 220 feet
Product Description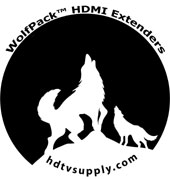 Matrix Routers WolfPack 4K HDMI HDBaseT Extender with POE is a tool which can extend your 4K HDMI video and audio signal upwards of 110 feet to an HDMI equipped widescreen or projector. Our WolfPack HDMI HDBaseT Extender with POE is designed to convert an HDMI signal to standard HDBaseT signal which then can be transmitted by a single Ethernet cable. Our HDMI HDBaseT Extender with POE also supports a Bidirectional Infrared control signal allowing you to control the source which is can be up to 220 feet away at 1080p and 110 feet away with 4K/30.
NOTE: Matrix Routers implementation of the HDBaseT technology and this product adds virtually no latency to the signal, less than 10 microseconds over 330 feet of CATx cable. At 100 feet you are taking about 3 microseconds. This means, for example, in a church or auditorium, the speakers lips are in sync with the image on all the screens.
The HDMI HDBaseT Over CAT5e/6 with POE Extender supports R/L stereo Audio embedding and de-embedding as it can help users to have more choices whether to use the internal or external audio. The extenders come with both the HDMI Transmitter (TX) and the HDMI Receiver (RX) and 1- screw on AC adapter.
10 Reasons That Sets This 4K WolfPack HDMI HDBaseT POE Over CAT5e/6 From The Rest:
Supports R/L Stereo Audio embedding and de-embedding
Equipped with EDID management capability on the TX
Supports Bidirectional RS232 Serial control signal transmission
Supports Bidirectional IR control signal transmission
Includes Mounting clips
OFF/ON switch on both the TX and RX.
Supports resolutions up to 4K2K@30Hz
Supports Power over Cable (POC / POE) locally powered over Cat5e/6 cable at either end
Supports 7.1 DTS Master HD, Dolby True HD
Worldwide screw on AC Power Supply
In addition, the WolfPack HDMI HDBaseT Extender supports PoE (Power over Ethernet) eliminating excess or unwanted power drain and also provides power to the receiver at the remote location, giving the ultimate freedom to the display or projector from being tethered to the AC outlet. The AC adapter can go at either end.
Also since the video and audio is not compressed there is no latency.
WolfPack HDMI HDBaseT Extender with POE Features:
4K at 30 Hz compliant
HDMI 1.4a compliant
HDCP 1.4 compliant
Color Space: 1080p: 36Bit Deep Color and 4K: 24Bit True Color, 4:4:4
Supports all 3D video formats
Support the highest resolution: 480i, 576i, 480p, 576p, 720p, 1080i, 1920 x 1080p up to 60Hz and 3840/4096 x 2160 up to 30Hz
Frequency sampling of sound: 44.1KHz & 48KHz
Supports 36 bit deep color
Zero transmission delay at 4K or below
The POE (Power Over Ethernet) function supports either the TX or RX and can be powered with the included 12V@2A power supply. POE power consumption is less than 10W.
Use a single UTP LAN cable (CAT-5e/6) to substitute for a long HDMI cable to achieve long distances HDMI transmissions.
The UTP cable termination follows the standard of IEEE-568A or IEEE-568B.
Transfers a Bidirectional Infrared control signal together with the HDMI signal.
Power: AC: 100-240V 50/60Hz 1.5A Max DC: 12V 1500mA
For optimal video performance use our WolfPack HDMI 2.0b and HDCP 2.2 cables with this product.
Why not buy this WolfPack HDMI HDBaseT Extender with POE today?
Find Similar Products by Category
Product Videos
What is the difference between PoE and PoC?
04:01
What is the difference between PoE and PoC? The #HowToAV team compares the differences between these two similar technologies... PoE stands for Power over Ethernet PoC stands for Power over Cable Power-over-Ethernet is an electrical industry standard which allows electrical power to be transmitted simultaneously with data signals over Cat5e/6/7 cable. PoE is standardised to adhere to specific voltage ranges between 37 and 57 volts. This ensures that any PoE device connected to a system receives a compatible power supply. PoC (or Power-over-Cable) works to similar principles (supplying simultaneous power and data signals over Cat cable) but is non-standardised and is applied to proprietary systems. Therefore, the voltage supply can be set to meet the needs of a specific product/system (which may be lower or higher than voltage range of PoE). Tweet the HowToAV team with more AV questions and tips at: https://twitter.com/HowToAV For details of HDMI-over-Cat and HDBaseT products featuring Power-over-Cable, click here: http://www.cie-group.com/shop/av-distribution_19/
What is the di...

What is the difference between PoE and PoC? The #HowToAV team ...
Product Videos